$15.95
AUD
Category: Excel
The aim of this book is to build basic skills in reading, comprehension, spelling, vocabulary, grammar and punctuation. The format of each unit is the same so that students become familiar with the requirements of each question, which become progressively more difficult as students work through the book . The sequence of units allows for regular practice that will reinforce the basic English skills taught in schools. In this book your child will find: - Thirty carefully graded double-page units - Informative, imaginative and persuasive text models - Literal, inferring and evaluative reading comprehension questions - Activities that teach spelling, vocabulary, grammar and punctuation - Four double-page revision units - Four double-page NAPLAN-style Tests - Marking grids to identify strengths and areas that require further revision - A lift-out answer section ...Show more
$16.95
AUD
Category: Excel
The Targeting Handwriting NSW Year 2 Student Book contains all the fe atures of the K and 1 books plus: tracing and copying of wo rds that have a common phonic element or words commonly found in Year 2 spelling lists students trace and copy sentences numer als, number words and punctuation integrat ed into handwriting exercises< /li> more emphasis on practice and the seahorse character is feature d on some sets of lines only, the scaffolding slowly being removed. Handwriting is one of the most crucial skills students will de velop in primary school. Targeting Handwriting covers the handwriting cu rriculum in a clear and structured way, with content directly linked to NSW syllabus outcomes. Writing is a vital, compelling form of communicat ion. Children need to write every day, for a variety of purposes and for a variety of audiences. To be competent writers, their handwriting need s to be fluent and legible. The teaching of handwriting is an essential part of the writing curriculum. ...Show more
$16.95
AUD
Category: Excel
These fun and inviting books have lots for students to do on every page. Patterning exercises allow students to become familiar with the basic movements used in letter formation, and assist in the development of fine motor skills. Two pages of tracing and tracking exercises for each letter provide stude nts with plenty of practice in letter formation. A seahorse character demonstrates the positioning of letters within lines, and the relevant letter is also featured within a simple illustration as a memory aid for students. ...Show more
$16.95
AUD
Category: Excel
Continuing to give students two pages of tracing, tracking and independent writing exercises for each letter...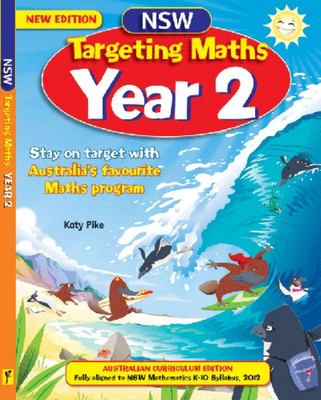 $19.95
AUD
Category: Excel | Series: Targeting Maths
This new edition of the successful Targeting Maths series has incorporated the feedback of hundreds of NSW teachers. New features of the program include: NEW Australian Curriculum/NSW alignment - This edition fully aligns each student page to the NSW syllabus and the Australian Curriculum; NEW Targeting Maths App for iPad and Android - All the essential mathematics content that children need to know in an interactive and motivating App, one for each Year level K-6. This book is fully cross-referenced to the Year 3 Targeting Maths App. Children will benefit from the combination of book-based and digital learning that this powerful learning program provides; NEW fully-integrated problem-solving program that actively builds students' abilities to think mathematically, problem solve and communicate their answers in a variety of ways; NEW term investigations where students plan and work through extended problems; NEW in-stage topic alignment for composite classes - Each book in one stage, e.g. Year 3 and Year 4, match topic by topic; NEW revision tests build skills for Australia's National Testing Program NAPLAN; Regular revision pages build test-taking skills; NEW Interactive whiteboard activities for front-of-class teaching; Each Targeting Maths Teaching Guide includes the complete Rainforest Maths CD-ROM for that level, an invaluable resource for teaching and learning a wide variety of maths concepts. ...Show more
$12.95
AUD
Category: Excel | Series: Primary English
Pascal's Basic Primary Spelling Years 1-4 show s students how to master the basic letter/sound relationships that are t he foundation of good spelling. It moves step-by-step through to longer and more difficult words. Even the poorest spellers will be motiv ated to learn because of the highly visual pr esentation and the enjoyabl e activities. Once students have learnt the basic concepts contained in this book they should be able to approach all future spelling tasks with confidence. Contents: sounds and blends using sounds vowel sounds endings rhyming words silent letters blends and endings singular and plural word endings contractions< /li> frequently misspelled words homophones answer s ...Show more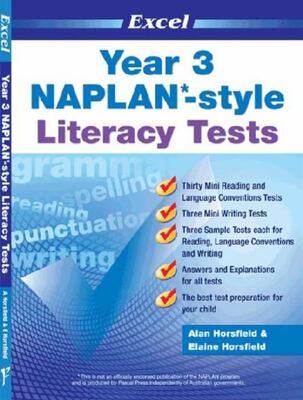 $17.95
AUD
Category: Excel
This book is designed for parents who want to help their children and for teachers who wish to prepare their class for the NAPLAN Tests.
$15.95
AUD
Category: Excel
The aim of this book is to build basic skills in Mathematics. The format of each unit is exactly the same so that each question covers the same Australian Curriculum topics throughout the book. The content of the que stions becomes progressively more difficult as students work through the book. The sequ ence of units allows for regular practice that will reinf orce the basic Mathematics skills taught in schools. In this book your child will find: â ¢ Thirty carefully graded, do uble-page units â ¢ Activities that cover Australian Curriculum Math ematics â ¢ Four double-page revision units â ¢ Four double-page NAPLAN-style Tests â ¢ Marking grids to identify strengths and area s that require further revision â ¢ A lift-out answer section ...Show more
$19.95
AUD
Category: Excel | Series: EXCEL
Book Description: Excel Year 9 NAPLAN*-style Numeracy Tests includes: * Thirty-two Mini Numeracy Tests * Three Sample Numeracy Tests * Answers and Worked Solutions for all tests * The best test preparation for you.
$17.95
AUD
Category: Excel | Reading Level: 11-12
The Excel series of Start Up Maths for Years 3–7 have been specifically designed to be used as classroom or homework books in order to assist students, teachers and parents with their understanding of mathematics. Each book in the series covers the year's work in detail. Innovative features provide an i ntegrated and supportive approach to learning. All units of work, review tests and Start Up sections are interrelated and cross-referenced to each other. This series of books is a must for students who want to cover the year's work comprehensively, with no gaps in their knowledge. The completion of this workbook in Year 6 will ensure that a student will be fully prepared for the work in Year 7. In this book your child will find: 176 units of work to complete 34 review tests for revision over 2000 exercises to practise a Start Up section for extra help with understanding questions comprehensive coverage of the year's work ...Show more
$15.95
AUD
Category: Excel
The aim of this book is to build basic skills in reading, comprehension, spelling, vocabulary, grammar and punctuation. The format of each unit is the same so that students become familiar with the requirements of each question, which become progressively more difficult as students work through the book . The sequence of units allows for regular practice that will reinforce the basic English skills taught in schools. In this book your child will find: Thirty carefully graded double-page units ; Informative, imaginative and persuasive text models ; Literal and inferring reading comprehension questions ; Activities that teach phonics, spelling, vocabulary, grammar and punctuation ; Four double-page revision units ; Four double-page NAPLAN-style Tests ; Marking grids to identify strengths and areas that require further revision ; A lift-out answer section. ...Show more
$15.95
AUD
Category: Excel
The aim of this book is to build basic skills in reading, comprehension, spelling, vocabulary, grammar and punctuation. The format of each unit is the same so that students become familiar with the requirements of each question, which become progressively more difficult as students work through the book . The sequence of units allows for regular practice that will reinforce the basic English skills taught in schools. In this book your child will find: - Thirty carefully graded double-page units - Informative, imaginative and persuasive text models - Literal, inferring and evaluative reading comprehension questions - Activities that teach spelling, vocabulary, grammar and punctuation - Four double-page revision units - Four double-page NAPLAN-style Tests - Marking grids to identify strengths and areas that require further revision - A lift-out answer section ...Show more